Service Times:
Sundays @ 11am and 6pm
Wednesdays @ 6pm

The Mountain View congregation welcomes you!

****
Not a Christian?
Come hear the 2,000 year old story that can change your life today!
Messages from a recent Sunday services...wish you had been here!
"Behold, bless the Lord,
All you servants of the Lord,
Who by night stand in the house of the Lord! Lift up your hands in the sanctuary, And bless the Lord."
Psalm 134:1-2
At Mountain View Baptist (also known as South Euclid Baptist Church) we preach Jesus Christ and Him crucified! Our church proudly and unashamedly proclaims the Gospel of Grace, which is the Good News about God's redemption of sinful people!

God demonstrated His love by sending His only Son, Jesus, to give His life on the cross as a ransom for many. Jesus rose from the dead three days later to testify that He really is the Way, the truth, and the Life!

Pay us a visit, and you'll hear a whole lot more about it; or click on "GET SAVED!"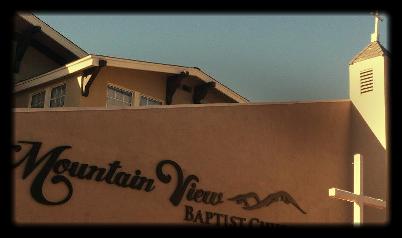 Sunday Morning Service-- 11:00 am
Message by Pastor Terry
Sunday Evening Bible Study-- 6:00 pm
Message by Pastor Mike
Wednesday Night Prayer Meeting-- 6:00 pm
-- A Devotional time of Prayer, and Preaching

Our Pastors:

Rev. Terry M. La Framboise, Senior Pastor
1960 South Euclid Avenue, Ontario, California. 91762
909. 986. 5059
Facebook.com/MyMountainViewBaptist
Youtube.com/MyMountainViewTV

"When I lift my hand to serve- nothing will be accomplished; unless God lifts His hand."


Rev. R.G. Osborne