"Gospel" means "Good News"...

Jesus came to save you,
so GET SAVED now!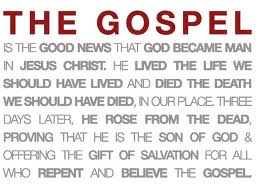 All Are Separated From God

The Bible informs us, that we have all been separated from God by sin. (Romans 3:23; 5:12/ Isaiah 59:1-2)
Doomed, But Given A Way Out

Under God's righteous Law, the cost of sin is death. Since we have all sinned before God, we are doomed to be separated from Him, forever suffering the torments of Hell. But there is Great News: we have been offered a way out; given a free gift of Eternal Life, through JESUS CHRIST. (Romans 6:23/Isaiah 53:5)
The Gospel Of Jesus Christ

Even though we are sinners, God loves us so much that He sacrificed His Only Son, JESUS, in our place, that we might be reconciled back to Him. JESUS is our Salvation from the wrath that we deserve. (Romans 5:8-11/Isaiah 53:10-11)
But, You Must Believe To Receive

You must only believe in your heart that JESUS died for your sins, and that God raised Him from the dead. Then confessing that Jesus is Lord, you are forgiven of your sins, and when you leave this earth, you will go to Heaven to be with Him forever. (Romans 10:9-10)

"For God so loved the world, that He gave His only Son, that whoever believes in Him should never die but have eternal life."
--John 3:16
We invite you to call upon Jesus, now.
Perhaps a prayer like this:
"Dear Lord Jesus, I believe that I am a sinner and I'm asking You to save me now."
If you prayed this prayer, then remember the promise of Romans 10:13-- Jesus promised to save you, and He has.
We would love to know of your decision and be of any help we can in learning more about Jesus Christ!